Did you know that "bell peppers" are a misnomer that comes from the lost explorer Christopher Columbus? Knowing he was looking for spicy peppercorn (where we get black pepper) in India, he thought that the first spicy food he encountered was "pepper." As we know, these were chiles used in Central America. Unfortunately, the name stuck; now everything in the chile family is referred to as a pepper, even when it's not spicy!
The recipe calls for 1/2 cup of wild rice and 1/2 lb of bison burger to fill 2 bell peppers (4 halves or servings). You can easily double the recipe.
Feel free to substitute another type of burger like elk, venison, moose, or in a pinch, grass-fed beef. You can also choose to season your peppers with different seasonings. If you are a fan of spicy food, add some chile powder, red peppers, even some salsa or hot sauce.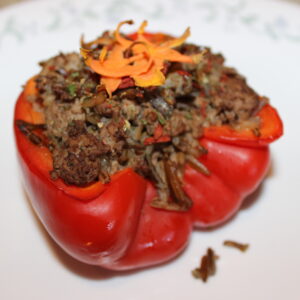 Bison and Wild Rice Stuffed Peppers
A wonderful savory dish that's perfect for dinner or lunch, these peppers include all of the core food groups.
Ingredients
2

bell peppers

1/2

lb

ground bison

1/2

cup

wild rice

uncooked

1/2

cup

carrots

shredded

1

Tbsp

wild garlic
Instructions
Add 1/2 cup wild rice and 1 cup of water to a pot and simmer covered until water is gone (about 45 minutes)

Brown ground bison meat with wild garlic. Add shredded carrots once bison meat is completely cooked. Save some shredded carrots for garnish.

Cut bell peppers in half and remove stems and seeds. Place peppers in boiling water for about 10 minutes to soften their skins. Place hollow side up on a baking sheet

Mix browned bison and cooked wild rice together and scoop to fill the peppers. Top with remaining carrots.

Bake at 350° F for 10 minutes. Serve warm!