Popcorn is one of my favorite snack foods. It's perfect for road trips, homework, Netflixing, etc. However, sometimes, it's nice to dress it up a little bit. Sunflower butter popcorn is a wonderful way of adding a perfect sweetness to this snack. Though be warned: this stuff is addictive.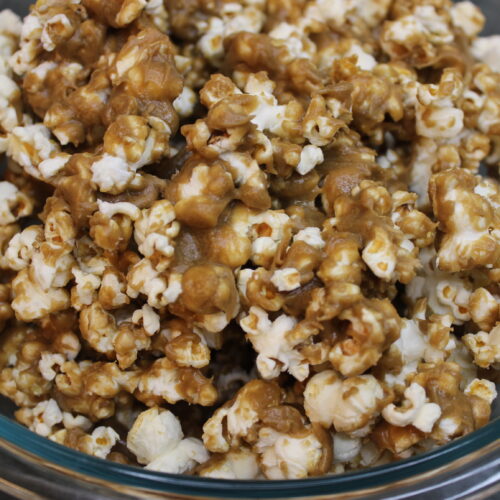 Sunflower Butter Popcorn
Ingredients
1/4

cup

popcorn kernels

oil

salt

1/2

cup

honey

1/3

cup

maple sugar

1/2

cup

sunflower butter

should be free of added sugar

1/2

teaspoon

vanilla
Instructions
Have a clean paper shopping bag or oversize mixing bowl ready.

Heat a 4-quart heavy pan over medium heat and film the bottom with oil. When the oil is hot but not smoking, add the popcorn, shake to distribute, then put a lid on the pan, leaving a small crack for steam to escape. When the first kernel pops, put the lid on all the way. As the popcorn starts popping, shake vigorously to make sure the kernels are distributed evenly. When the popping slows to a few seconds between pops, take the pan off the heat.

Pour the popcorn into the paper bag or bowl to cool, and attempt to leave any unpopped kernels behind in the pan as they can be dangerous to your teeth.

Mix the honey and maple sugar in a small saucepan and bring to a boil. Let it simmer for about 2 minutes, then remove from the heat and add the sunflower butter. Stir vigorously until all the sunflower butter is melted, then mix in the vanilla.

Immediately pour the sunflower butter caramel over the popcorn and stir with a wooden spoon until it's all coated. Let cool for at least 10 minutes before serving.
Notes
Feel free to use peanut butter instead! This recipe will also cover one standard bag of microwave popcorn, so you can substitute that for the stovetop popcorn if you wish. This keeps well overnight. If you want to serve it slightly warm, microwave a bowl of leftover popcorn in 15-second bursts in the microwave until soft.