After a successful hunting season with my cousins, I ended up with a lot of elk sausage in my freezer. This recipe was created from that, and an incredible sense of procrastination that came from needing to make something for a photoshoot that was happening at my house afterwards. (Side note: the pictures ended up in this article and I'm in love with them.)
This recipe is not difficult, but definitely requires a little time. If you have kids, there are several steps that they can assist with. Scraping spaghetti squash out, making meatballs, filling the cupcake tin…it's perfect to get children excited about the food they'll be eating.
I'm a sucker for cute food and these nests are right on track with that. Here's to Nested Elk: it's healthier and much more adorable than spaghetti and meatballs.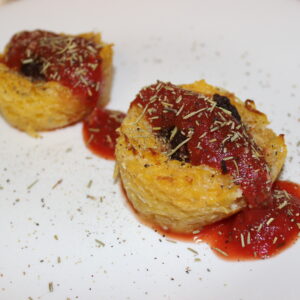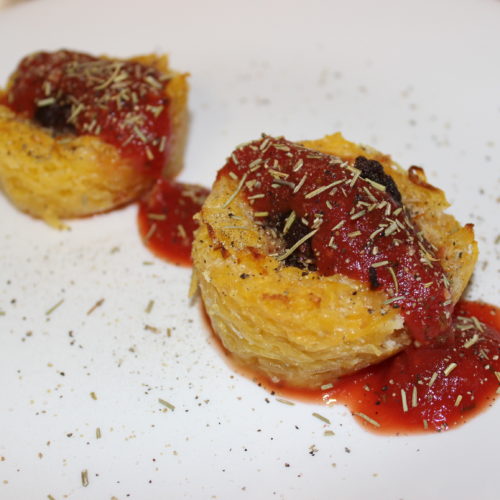 Nested Elk
These cute nests are made of spaghetti squash and hold savory elk meatballs.
Ingredients
1

spaghetti squash

1

lb

elk sausage

or other sausage or ground meat

3+3

Tbsp

sunflower oil

can substitute olive oil or avocado oil

salt and pepper

3

egg whites

1

can (15 oz)

tomato sauce

1

tsp

thyme

1

tsp

oregano

1

tsp

basil
Instructions
Preheat oven to 400° F. Cut squash in half and scoop out seeds. Place hollow side up on cookie sheet and drizzle with sunflower oil, salt, and pepper. Bake for 35 minutes.

Form elk sausage into 1″ balls and place on ungreased baking sheet. Bake for 20 minutes.

Allow squash to cook for 10 minutes so it can be handled. Use fork to scrape squash out of it's skin. Place in mixing bowl.

Add egg whites to squash and stir

Grease muffin tin with sunflower oil and scoop squash to create "nests"

Bake at 375° F for 30 minutes, add 1 meatball to each nest and bake for 10 more minutes.

Mix tomato sauce, thyme, basil, and oregano together to create a sauce. Heat in a saucepan on the stove top